" Beyond Russia Imagined :
Reflections on the Exhibition"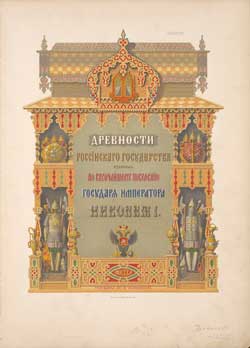 Fedor Solntsev.
Chromolithograph from: Antiquities of the Russian State
(Moscow, 1849-53).
Slavic and Baltic Division.
Holy Trinity Seminary was represented at a two-day symposium, that complements the exhibition "Russia Imagined, 1825-1925: The Art and Impact of Fedor Solntsev," which is on view at the NYPL's Sue and Edgar Wachenheim III Gallery from Friday, March 2 through June 16, 2007.
Deacon Vladimir Tsurikov, Assistant Dean of Holy Trinity Seminary, and Nadiezsda Kizenko, Professor of History at the University at Albany (SUNY) and Instructor of Russian History at Holy Trinity Seminary participated at the symposium, which took place at The New York Public Library and at the Harriman Institute at Columbia University on March 22-23, 2007. Presentations included, but were not limited to, papers on Fedor Solntsev and the Russian Orthodox Church, The Manuscript Books of Fedor Solntsev, Restoring the Medieval Past in 19 th -Century Kyiv, Aleksei Olenin and the Search for National Distinctiveness in Russian Art, and Solntsev and Official Nationality.
<