Hierodeacon Cyprian (Alexandrou) Ordained to the Priesthood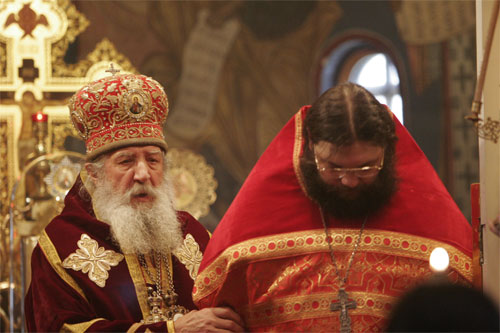 His Eminence, Metropolitan Laurus, First Hierarch of the Russian Orthodox Church Abroad and Rector of Holy Trinity Seminary, ordained Hierodeacon Cyprian (Alexandrou) to the Holy Priesthood on Tuesday, December 19, 2006, the Feastday of St. Nicholas the Wonderworker, at Holy Trinity Monastery.
Fr. Cyprian was born in Sydney, Australia. He is a graduate of Sydney University and Macquarie University. In 1995 Fr. Cyprian moved to Greece to the Monastery of St. Cyprian and Justina in Fili, and was tonsured a rassaphore monk by Metropolitan Cyprian of Fili on the feast day of St. Cyprian and Justina. In February 1996 Fr. Cyprian was ordained to the diaconate and returned to Australia with a canonical release to the Russian Orthodox Church Outside Russia.
On April 2, 2004, Fr. Cyprian was tonsured to the small schema at Holy Trinity Monastery by Metropolitan Laurus. Since 2004 Fr. Cyprian has been teaching Greek and ESL at Holy Trinity Seminary. Aside from teaching, Fr. Cyprian is a staff member of the Seminary's library.