Roundtable on Alcoholism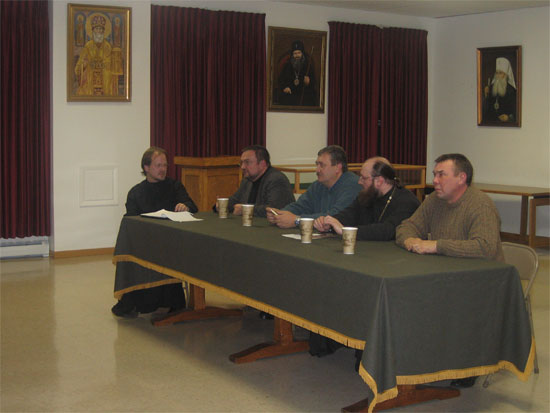 Holy Trinity Seminary hosted a roundtable entitled "Alcoholism in Russia - Efforts by Society and Church to Overcome It" on December 12, 2006. Three of the roundtable participants were clinical specialists from Russia: Hieromonk Jonah (Zaimovskii) of the Monastery of St. Daniel in Moscow and author of several books on addiction; Dr. Aleksei Aleksandrov, a psychiatrist and psychoanalyst from the Second City Hospital in Saint Petersburg; and Alexander Zatravkin from the "
Dom na Gore
" ("House on the Hill") rehabilitation center outside Saint Petersburg. They were joined by Dr. Eugene Zubkov, a psychiatrist and director of The International Institute for Alcoholism Education and Training, Inc. Panelists first focused on the nature of alcoholism, particularly in the context of contemporary Russia, the history of its treatment, the twelve step program and AA initiatives in Russia, and related their own professional experience in treating this disease. After the floor was opened to questions from the audience, a lively discussion followed in which several issues were raised, such as the Russian Church hierarchy's support of treatment efforts, ecclesial attitudes towards twelve-step organizations, treatment of clergy suffering from alcoholism, the definition of alcoholism as a disease, issues of co-dependency, among other topics. Informal discussion and conversation between panelists and participants continued after the close of the roundtable.