Jordanville Represented at Inter-Seminary Meeting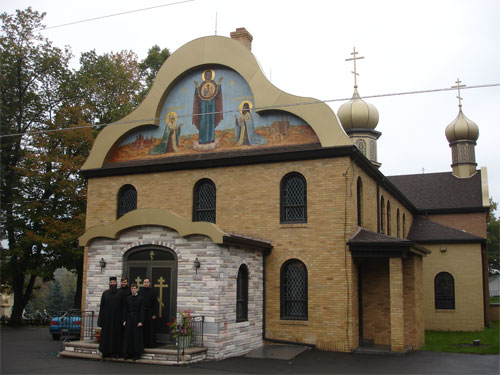 With the blessing of His Eminence, Metropolitan Laurus, First Hierarch of the Russian Orthodox Church Abroad and Rector of Holy Trinity Seminary, four Jordanville seminarians - fourth-year students Hierodeacon Seraphim (Baltich) and Arsenii Pilguk, and fifth-year students Denis Lvov and Felipe de Oliveira - attended the fall 2006 meeting of the Orthodox Inter-Seminary Movement (OISM) at St. Tikhon's Monastery and Seminary in South Canaan, PA, on September 22 and 23, 2006. On Friday all seminarians present for the meeting visited a student home, where they were treated to an evening of fellowship and authentic Arabic food prepared by Khouria Raghad Shawareb and others. Saturday morning the seminarians attended the Divine Liturgy at the monastery church. Later in the morning a meeting was held with the participation of seminarians from Holy Trinity Orthodox Seminary (Jordanville, NY), St. Tikhon's Orthodox Theological Seminary (South Canaan, PA), St. Vladimir's Orthodox Theological Seminary (Crestwood, NY) and Holy Cross Greek Orthodox School of Theology and Hellenic College (Brookline, MA). (St. Herman's Seminary in Kodiak, AK, was unable to send representatives to this meeting.) At the meeting many topics pertaining to the future of OISM were discussed, including a pilgrimage to Alaska, in which Jordanville student Arsenii Pilguk will participate. Following the meeting recreational activities were held, after which all seminarians returned to their respective schools.
The goal of these meetings is to help seminarians from all the Orthodox theological schools in North America become acquainted with one other. In the words of Deacon Stephen Vernak, a student at St. Tikhon's: "OISM is our single greatest tool for fostering friendship, filial love and understanding between our Orthodox Seminaries"