Talk by Peter Bushanow, M.D.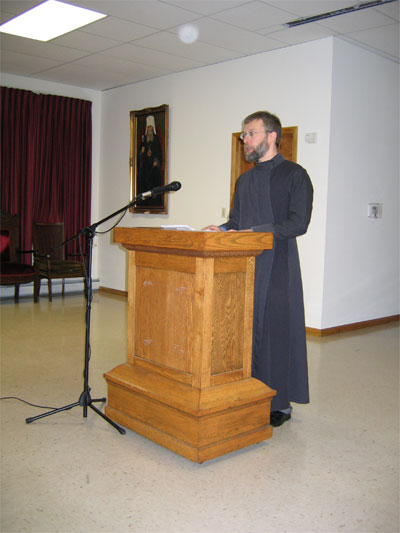 On Tuesday, December 6, 2005, Dr. Peter Bushanow delivered a talk entitled "The Sanctity of Life and Modern Medical Practice" at Holy Trinity Seminary. Dr. Bushanow is a practicing Medical Oncologist, treating patients with chemotherapy at Rochester General Hospital, an active member of the Protection of the Mother of God Church in Rochester, NY, and a tonsured Reader.
In his talk, Dr. Bushanow reviewed the spiritual implications of illness and suffering, considered the role of Christ and the Church in the healing process, focused on several examples of modern medical practices that have the potential to harm as well as help the patient, and discussed considerations that can help discern the appropriateness of practical medical practices. Dr. Bushanow's talk, which combined the theoretical and the deeply practical, was intended to help our seminarians, as future clergy, to be prepared to educate their flock about illness, suffering, and redemption as well as to comfort and counsel individual people facing illness and death. A question and answer session followed the talk, after which Dr. Bushanow spoke individually with interested audience members.