Konevets Quartet Concert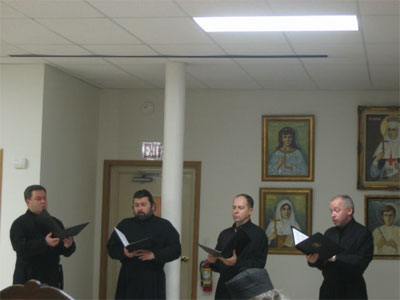 Holy Trinity Seminary was pleased to host a concert by the Konevets Quartet on Thursday, November 17, 2005. The program was in two parts, the first consisting of liturgical music ranging from traditional chants - among them the ancients chants of Konevets Monastery and other monasteries - to modern compositions by Ippolitov-Ivanov, Taneev, Trubachev, Golovanov, and Kedrov. The second part of the program consisted of a series of secular songs, including military and regimental songs, comic songs, and traditional Russian folk songs.
The Konevets Quartet was founded by graduates of the St. Petersburg Music Conservatory in 1992, taking its name from the Konevets Monastery, founded over 600 years ago by St. Arseny of Konevets on Konevets Island on Lake Ladoga but largely destroyed by the Soviets. A portion of the Quartet's revenue goes towards restoration of the monastery; the Quartet frequently sing at the monastery's divine services on Sundays and Feast Days. The current members of the Quartet are Igor Dmitriev (director, bass), Dmitry Mednikov (first tenor), Mikhail Trifonov (baritone), and Sergey Svoysky (first tenor).
More information on the Konevets Quartet can be found on the Quartet's website: www.konevets.com.