Ordination of Fr. Serge Ledkovsky (Class of 2001)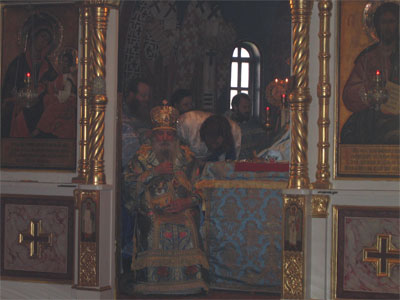 His Eminence, Metropolitan Laurus, First Hierarch of the Russian Orthodox Church Abroad and Rector of Holy Trinity Seminary, ordained Deacon Serge Ledkovsky to the Holy Priesthood on Friday, November 4, 2005, the Feastday of the Kazan Icon of the Theotokos, at Holy Trinity Monastery.
Fr. Serge was born in New York City and grew up attending the Synodal Cathedral, where his father, the late Alexander Borisovich Ledkovsky, and before that his grandfather, Boris Mikhailovich Ledkovsky (1894-1975), served as choir directors. Prior to his enrollment at Holy Trinity Seminary, Fr. Serge received a B.S. in Biology from the State University of New York, College at Brockport. He was graduated from Holy Trinity Seminary in 2001 and ordained to the Deaconate by His Eminence, Metropolitan Laurus, on the second day of the Nativity of Christ, 2005. Fr. Serge will serve as an assistant priest at the St. Vladimir Memorial Church in Jackson, N.J., where Archpriest Boris Kizenko (class of 19) is Rector.