Deacon Iakov Ferens (Class of 1995) Ordained to the Priesthood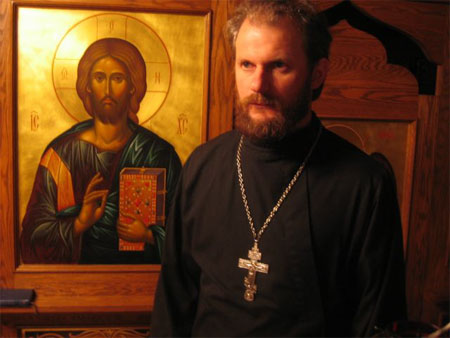 His Eminence, Metropolitan Laurus, First Hierarch of the Russian Orthodox Church Abroad and Rector of Holy Trinity Seminary, ordained Deacon Iakov Ferens to the Holy Priesthood on Sunday, October 23, 2005, at Holy Trinity Monastery.
The newly ordained Fr. Iakov is a native of Poland, where he studied Russian Art at the C. K. Norwid School in Lublin and Religious Art at the University of Maria Curie in Sklowdowska. Shortly after relocating to the United States he enrolled in Holy Trinity Seminary, from which he was graduated in 1995. Following his graduation Fr. Iakov established himself as a distinguished iconographer while serving as a deacon at Holy Trinity Monastery in Jordanville, N.Y.
Fr. Iakov and his family will move to San Diego, CA, where he will serve the St. John of Kronstadt Church, a parish of the Western American Diocese.