Repose and Burial of Bishop Alexander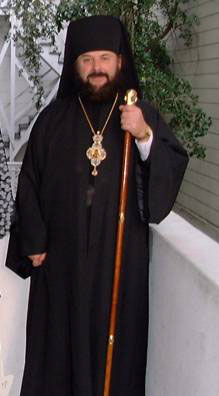 His Grace, Bishop Alexander of Buenos Aires and South America, reposed in the Lord on the night of September 12-13, 2005, after a lengthy illness. Archbishop Kyrill of San Francisco officiated at his funeral at Holy Trinity Church in Oxnard, CA, on Friday, September 16, and Metropolitan Laurus, accompanied by Bishops Gabriel of Manhattan and Peter of Cleveland, served his burial at Holy Trinity Monastery in Jordanville, NY, on Monday, September 19.
His Grace was born Alexander Vasilievich Mileant in Odessa in 1938. During the Second World War his father disappeared at the front, after which his family fled the communists first to Prague, then to Rome, before settling in Buenos Aires, where the young Alexander received his primary education before completing a seven-year vocational school in mechanical engineering and enrolling in Buenos Aires University. During much of this time the young Alexander Mileant was under the spiritual tutelage of Archbishop Afanassy (Martos) of Buenos Aires and Argentina, from whom he acquired a great love of the writings of the Holy Fathers, learning Greek in order to read patristic sources in the original.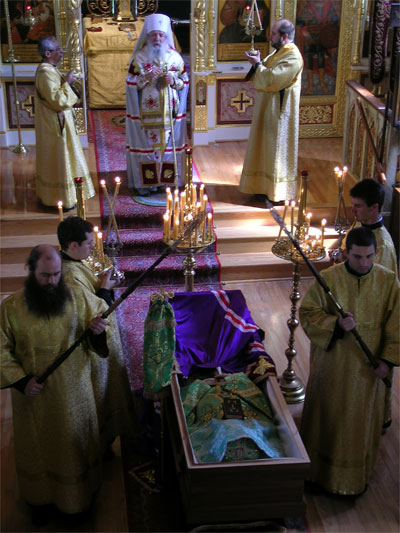 His Grace entered Holy Trinity Seminary in 1963, graduating in 1967. Alexander Mileant was ordained to the deaconate by Archbishop Averky and to the priesthood by Metropolitan Philaret, both in 1966, and was assigned to the Protection of the Holy Virgin Russian Orthodox Church in Los Angeles, CA, where he served as rector for more than three decades. Fr. Alexander continued his education while serving his parish, receiving several advanced degrees in electrical engineering, before taking a job in 1987 as an engineer in the Communications Systems and Research Section of NASA's Jet Propulsion Laboratory in Pasadena, CA, where he specialized in the problems of communicating with spacecrafts in deep space. Archpriest Alexander was tonsured a monk in Holy Trinity Monastery in 1995 and consecrated Bishop of Buenos Aires and South America on May 28, 1998, in the Synod Cathedral in New York City.
Bishop Alexander was a great proponent of education, both formal and informal. He printed hundreds of titles of popular theological literature in Russian, English, Spanish, and Portuguese in booklet form for free distribution, all of which he later made available on-line (http://www.fatheralexander.org/). His most recent Internet project was the on-line Holy Trinity Orthodox School (http://www.holytrinitymission.org/), which was created to assist and extend the activities of Holy Trinity Seminary in Jordanville and contains a wealth of theological material in Russian, English, and Spanish.
To Bishop Alexander – alumnus, author, translator, educator, scientist, missionary, pastor, and hierarch – we wish Eternal Memory!