Seminarians Attend Youth Conference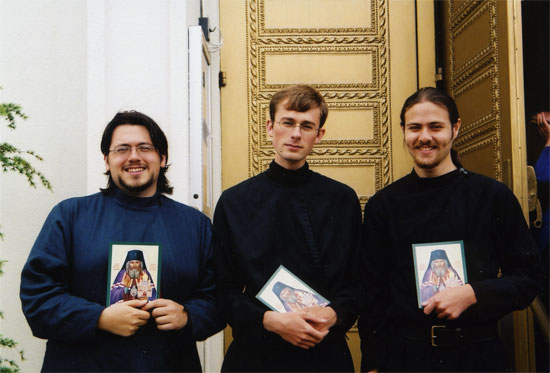 With the blessings of Metropolitan Laurus and Archbishop Kirill of San Francisco, the Eleventh International Youth Conference of the Russian Orthodox Church Abroad was opened on June 26, 2004, in San Francisco, CA. The timing of this year's conference was especially fortuitous, inasmuch as it coincided with the tenth anniversary of the Glorification of St. John of Shanghai and San Francisco. Jordanville Seminarians Daniel Millwood, Alexei Pjawka, and Pavel Drozdowski attended the conference, taking advantage of the opportunity to pray at the relics of St. John, meet old friends, and make new ones among the participants.
Among the invited speakers were Archpriest Maxim Kozlov, rector of St. Tatiana's Chapel at Moscow State University, Archpriest Gabriel Makarov, rector of St. Nicholas Cathedral in Brisbane, Australia (HTS alumnus, class of 1984), George Skok from Toronto (HTS alumnus, class of 1976), and Mother Amvrosia from the Convent of St. Mary Magdalene in Jerusalem. Fr. Maxim met our seminarians with especially great warmth and spoke with our youth with great enthusiasm. The conference began each morning with the Divine Liturgy in the cathedral. An impromptu youth choir, in which the seminarians took part, sang at each. Lectures and panel discussions followed, ranging in topic from the nature of beauty to the situation of Orthodox students in universities today. Time was given on for excursions to Golden Gate Park, a seafood restaurant on the piers, a local redwood forest, and Fort Ross. Brief tours of the cathedral, crypt (former resting place of St. John), and St. Tikhon's Orphanage (with the cell of St. John) were also given.
The last few days of the conference concentrated on preparation for the feastday of St. John, including several choir rehearsals. When the eve of the feast arrived, the cathedral was filled to capacity; seven bishops, two dozen priests, and a dozen deacons served while three choirs sang (those of the cathedral, conference participants, and clergy). The crowds were so great after the Divine Liturgy that a procession was made around the cathedral with great difficulty. Afterwards, a festive trapeza for the youth was organized under a tent on the square next to the cathedral. Even though this marked the official end of the conference, most of the youth stayed for Vigil that evening (it being Saturday) and participated in the early Divine Liturgy the next morning. In spite of the busy schedule, there was ample time throughout to relax and talk -- and even to organize a talent show!
All participants will remember the 2004 International Youth Conference as a remarkable event that helped them to grow in their faith.