Book Presentation in Moscow
Deacon Vladimir Tsurikov, Assistant Dean of Holy Trinity Orthodox Seminary, traveled to Moscow by invitation of the Fund for Assistance to the Cadet Corps to attend a book presentation at the Patriarchal residence at Danilov Monastery on May 27, 2004.
The book presentation, which preceded the final round of talks between His Holiness, Patriarch Alexis and His Eminence, Metropolitan Laurus, was a unique and historic occasion, inasmuch as both First Hierarchs had contributed forewords to the volume. The book, which is dedicated to the historic first meeting between Patriarch Alexis and Metropolitan Laurus, commemorates the 250th anniversary of the birth of St. Seraphim of Sarov and contains archival documents, photographs and illustrations from the glorification of St. Seraphim in 1903, photographs from the centennial commemoration in both Diveevo and Novo Diveevo in 2003, and reproductions of icons found in Russia and the diaspora.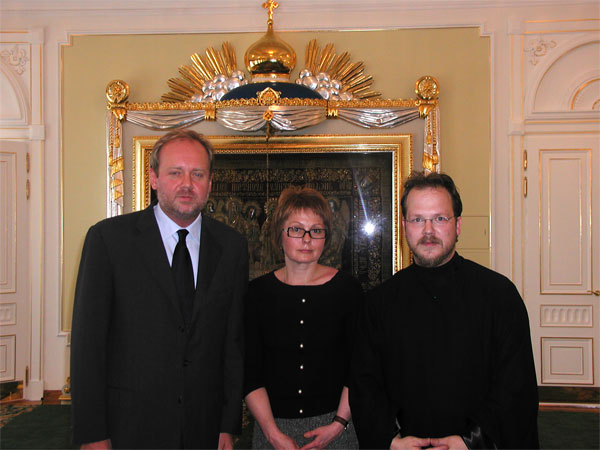 In attendance at the book presentation were Patriarch Alexis, Metropolitan Laurus, representatives from the Moscow Patriarchate and the Russian Orthodox Church Abroad, as well as guests who had contributed to the production of the album. Short speeches were made first by Mr. Boris Jordan, president of the Fund for Assistance to the Cadet Corps and initiator of the volume, and then by Patriarch Alexis and Metropolitan Laurus.
Proceeds from the volume will go, in Russia, to the Diveevo Convent and, abroad, to the Novo Diveevo Convent in Spring Valley, NY. Copies of the volume, which all in attendance received, will be sent to libraries and cadet corps throughout Russia.
Patriarch Alexis and Metropolitan Laurus personally presented a copy of the album to President Vladimir Putin during a meeting the President the same day.
Fr. Vladimir was also able to use the occasion of his trip to Moscow to meet with His Eminence, Archbishop Evgenii, Rector of the Moscow Theological Academy and Seminary, to discuss his upcoming visit to the third annual Holy Trinity Seminary Colloquium this October, as well as other possible collaborations between the two theological institutions, and with other representatives of the Moscow Theological Seminary and Academy. Likewise, during his visit, Fr. Vladimir visited and met with representatives of many other academic institutions, such as the Orthodox St. Tikhon's Theological Institute, the State Archives of the Russian Federation, the Russian State Library, and the M. I. Rudomino Library for Foreign Literature.
Holy Trinity Seminary wishes to express its sincere gratitude to His Eminence, Archbishop Evgenii of Vereia for his hospitality; Mrs. Olga Barkovets, Director of the Fund for Assistance to the Cadet Corps, for extending an invitation to travel to Moscow; and to Mr. Boris Jordan, CEO of Sputnik Group and Mr. Michael Jordan, CEO of Aton Securities, for providing the resources that made the trip possible.