Fifty-Sixth Annual Commencement
Holy Trinity Seminary held its Fifty-sixth Annual Commencement on May 23, 2004, welcoming as special guests His Grace, Bishop Peter of Cleveland, an alumnus and former Dean of Students, Professor Mikhail V. Shkarovsky, the invited Commencement Speaker, and Mr. Robert McHugh, Assistant in Higher Education from the New York State Board of Education.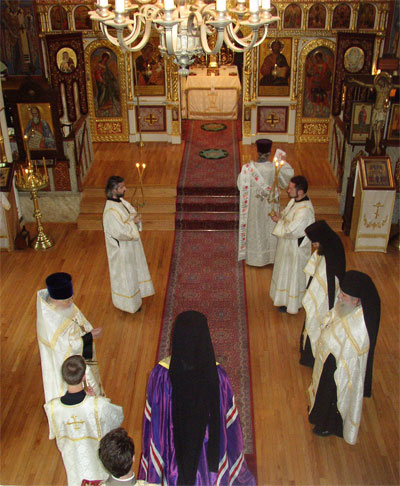 The ceremonies began with a Service of Thanksgiving (moleben) served by Bishop Peter, accompanied by several priests and deacons, in Holy Trinity Cathedral. Following the completion of the service, all proceeded to the seminary auditorium, where Archimandrite Luke, Dean of Seminary, officially opened the Commencement exercises. A quintet of seminarians, under the direction of fourth-year student Nathan Williams, sang the American and Russian national anthems. Archimandrite Luke then read a greeting from His Eminence, Metropolitan Laurus, Rector of Holy Trinity Seminary, congratulating those students who had finished their studies and greeting the remaining students on the occasion of the completion of the academic year. Bishop Peter offered a few words on the necessity of service to the Church, emphasizing that Christ's field is always in need of servants.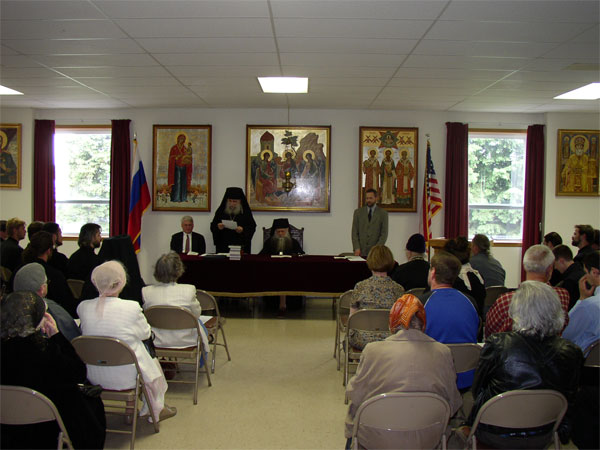 Archimandrite Luke then introduced the Commencement Speaker, Professor Mikhail V. Shkarovsky, Head Research Fellow of the Central State Archives of St Petersburg, Professor at the St. Petersburg State University of Culture and Art and the St. Petersburg State University, and author of over 180 scholarly publications, including eighteen books,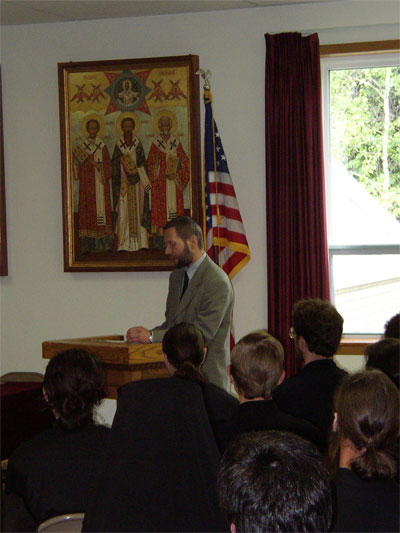 on the history of the Russian Orthodox Church in the twentieth century. The topic of Professor Shkarovsky's talk was the All-Russian Council of 1917-1918, with special attention paid to its emphasis on conciliarity (sobornost) and its decisions on seminary education. (For the full text of Dr. Shkarovsky's talk, click here).
Following Dr. Shkarovsky's speech, awards for academic excellence were granted to: first-year student George Baltic; second-year student Konstantine Nogovitsin; third-year students Aleksei Pjawka and Mikhail Auchynnikau, jointly; fourth-year student Daniel Marshall; and fifth-year student Yevheniy Utnyukhin. Following the presentation of awards, the graduating class, made up of Deacon Julian Miloradovich, Alexey Khlopoff, Eugene Koulanov, Simon Nekipelov, and Yevginiy Utnyukhin, was honored.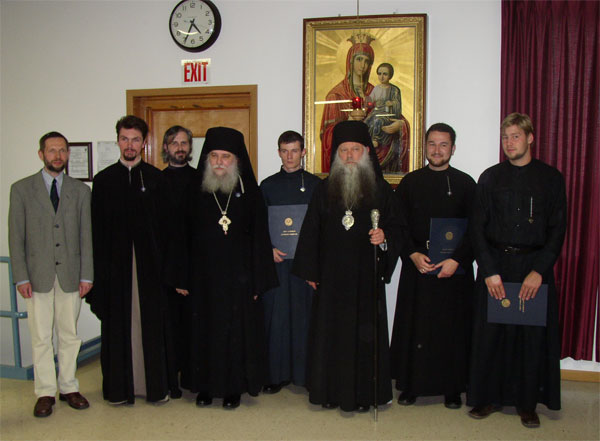 Deacon Julian Miloradovich offered a response on behalf of the graduating class, thanking the Seminary for the education they had received. Archimandrite Luke then thanked Mr. Robert McHugh for attending and offered words of congratulation to faculty member Andrei Psarev for having been awarded the degree of Master of Theology by St. Vladimir's Orthodox Theological Seminary the week before.
Following the closing of the Commencement Exercises and a concluding prayer, the graduating class and its guests were invited to a private dinner prepared by the fourth year students while all other guests were invited to tea and refreshments served in the auditorium, likewise prepared by the fourth year seminarians.