Board of Advisors Hosts Library Evening
With the blessings of His Eminence, Metropolitan Laurus, Rector of Holy Trinity Seminary, and of His Grace, Bishop Gabriel, and with the generous support of Prince and Princess Galitzine, the Board of Advisors of Holy Trinity Seminary hosted an evening dedicated to describing and sharing the Seminary's Russian and East European academic resources on April 22, 2004, at the headquarters of the Synod of Bishops in New York City.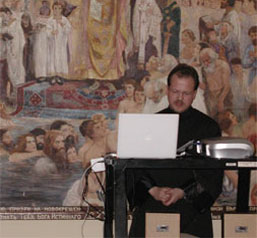 The evening began with a short introductory presentation by Deacon Vladimir Tsurikov, Assistant Dean of the Seminary and Director of the Library and Archives. In his remarks, Fr. Vladimir sketched a brief history of the Seminary and introduced its academic resources, particularly that of its library and archive, as well as that of its icon studio and bookstore. Fr. Vladimir pointed out that, while the Seminary traditionally has served as a training program for future clergy of the Russian Orthodox Church Abroad and has drawn primarily from its own internal resources, the recent past has seen a shift of attitude, as the Seminary has begun to open its resources to the wider academic community by the establishment of annual academic conferences and the inclusion of outside scholars from both secular and theological institutions.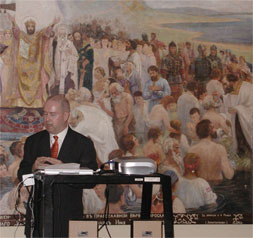 Mr. Edward Kasinec, head of the Slavic and Baltic Division of The New York Public Library, then commented on the larger context of Holy Trinity Seminary Library's collection. Mr. Kasinec compared Holy Trinity Seminary's collection to somewhat comparable collections held locally at the Bakhmeteff Archives, the Columbia University Library, and The New York Public Library; regionally, at Yale and the archives of the Orthodox Church in America; and, internationally, at collections from Beijing to Moscow. Noted also was the Seminary's significant museum collection. That the implementation of a program of description and publication will require the work and support of many beyond the internal resources of the Seminary was emphasized. Mr. Kasinec concluded by stating his personal commitment to furthering this project.
Among the honored guests were His Grace, Bishop Gabriel of Manhattan, and local clergy; faculty and students from Columbia University, The General Theological Seminary, and Holy Trinity Seminary; and representatives from the Columbia University Library, The New York Public Library, the Bakhmeteff Archives, the Russian Children's Welfare Society, Ross Publishing, The Russian Nobility Association, and The New Review .
It is hoped that the evening will serve further to advance the task of describing, evaluating, and sharing Holy Trinity Seminary's resources and collections and to encourage the support and cooperation of the wider academic community in this task.