Feast of the Three Hierarchs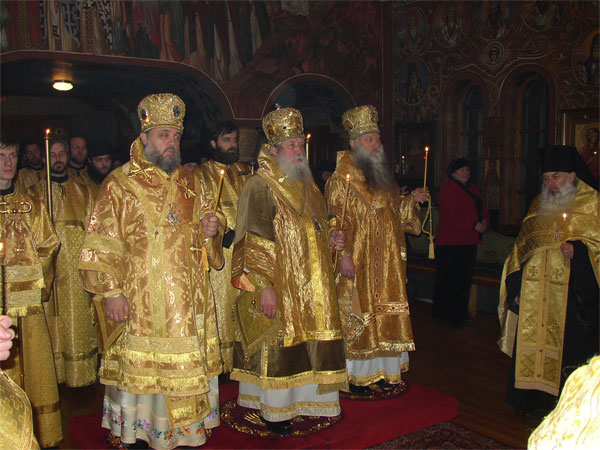 On February 11-12, 2004, the seminarians and faculty of Holy Trinity Seminary gathered along with the monastics of Holy Trinity Monastery to celebrate the feast of the Three Hierarchs, Sts. Basil the Great, Gregory the Theologian, and John Chrysostom, the heavenly protectors of the seminary. All the festive services were presided over by His Eminence, Metropolitan Laurus, First Hierarch of the Russian Orthodox Church Abroad and Rector of Holy Trinity Seminary. His Eminence was joined by His Grace, Bishop Gabriel of Manhattan, and His Grace, Bishop Peter of Cleveland, both alumni of the seminary, as well as a large number of priests and deacons. At the initiative of the seminary's instructor of Greek, Rassaphore-monk Serge, students from the third year Greek class read portions of the service in that language, thereby renewing a Jordanville tradition dating to the days of Archbishop Averky that had of late fallen out of practice.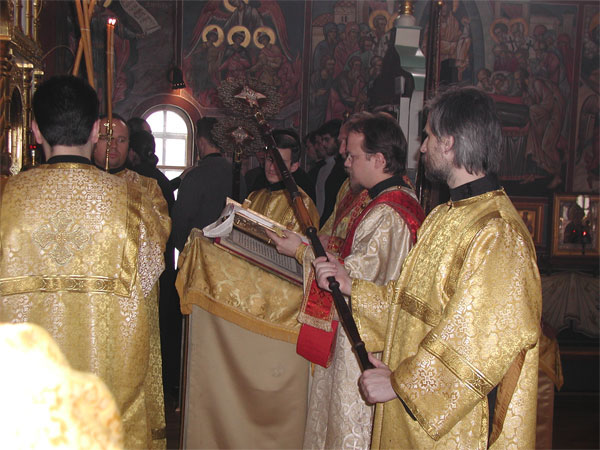 During the Divine Liturgy on the following day, Deacon Vladimir Tsurikov, Assistant Dean of the seminary, was awarded the right to wear the double orarion in recognition of his many years of service to the Church and his hard work at the seminary. As during the Vigil, various parts of the Liturgy were read in Greek, including the reading of the Epistle and Gospel. Follow the Divine Liturgy a moleben was served to the Three Hierarchs.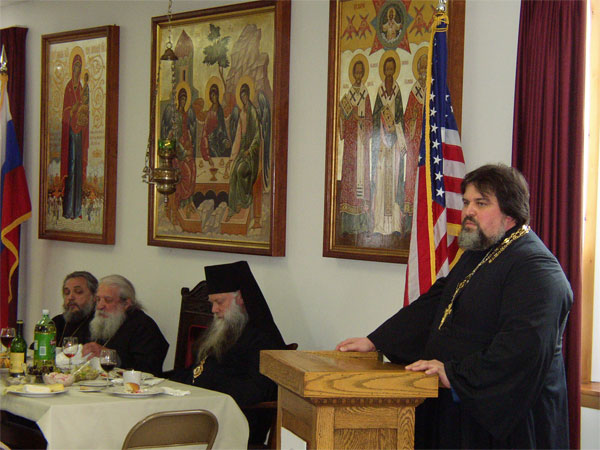 Following the Divine Liturgy and a meal in the monastery refectory, the students gathered for the traditional reception in the seminary graduation hall. Metropolitan Laurus greeted all the assembled on the occasion of the feast, following which Bishop Peter likewise congratulated everyone and conveyed Archbishop Alypy's greetings as well. Archpriest George Kallaur, a seminary alumnus and currently rector of a parish in Brooklyn, gave a short talk about being a pastor, and of the joys, responsibilities, and hardships that come with it. After Fr. George's talk, His Eminence presented the new Holy Trinity Seminary Scholarship to three fourth-year students: Nathan Williams, Daniel Marshall, and Nikolaj Kostur, in recognition of their diligence in all aspects of seminary life.
Special thanks are due to the students who prepared the reception and above all to Metropolitan Laurus and Bishops Gabriel and Peter for taking time out of their busy schedules to come and pray with the seminarians on their feast day, and especially to Archpriest George Kallaur for his wonderful and instructive talk.