Holy Trinity Orthodox Seminary Celebrates Patronal Feast
On January 30/ February 12, Holy Trinity Monastery in Jordanville, NY celebrated the Feast of the Three Hierarch Hierarchs, who are the heavenly protectors of the seminary. An All-Night Vigil was served the night before the feast, with virtually all the seminarians participating by either singing on kliros, or serving in the altar. Despite inclement weather, several people from the surrounding area joined the monastic brotherhood and the seminarians in the celebration. His Eminence, Laurus, First Hierarch of the Russian Orthodox Church Outside of Russia served the Polyeleos, along with His Grace, Michael, Bishop of Boston, who is in residence at the monastery. Throughout the vigil, there was a sense of solemnity and prayer, which could be sensed by all present.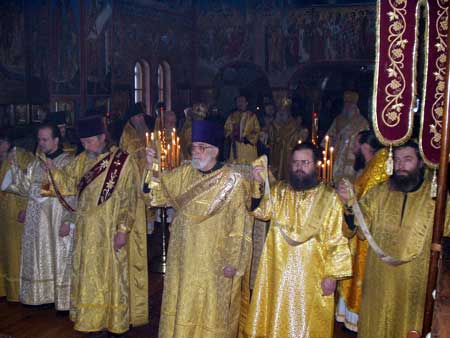 On the feast itself, His Eminence the Metropolitan, Bishop Michael and several priests and deacons who are seminary graduates celebrated the Hierarchical Divine Liturgy. Some of the serving clergy are alumni who have returned, and are now themselves on the seminary faculty. Again, a majority of the seminarians either served or sang on kliros.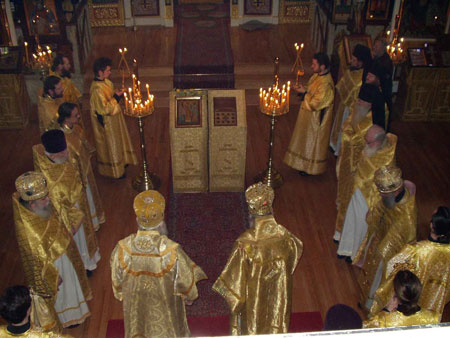 At the conclusion of the Divine Liturgy, His Eminence the Metropolitan, gave a sermon to the faithful in which he pointed out that in their own time, Sts. Basil the Great, Gregory the Theologian and John Chrysostom suffered and were persecuted for their firm stand in defense of Orthodoxy. His Eminence pointed out to the seminarians and the assembled faithful that the present day situation in the Orthodox Church is not much different than the fourth century in which those holy men of God lived. Vladika asked therefore, that we fervently pray to the Holy Three Hierarchs to intercede on our behalf that God will show mercy to our Church. At the end of the Metropolitan's sermon, a solemn moleiben of intersession to the Saints was offered.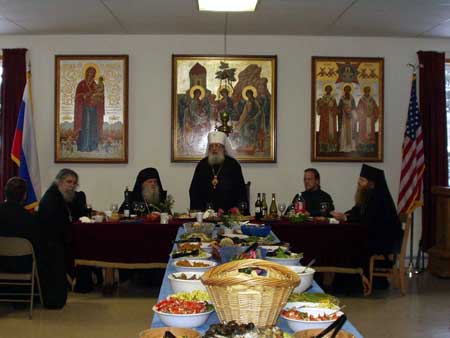 At three o'clock in the afternoon, the seminarians, monastic brotherhood and local faithful were invited to the annual feast day reception in the seminary hall. His Eminence once more extended his warm congratulations to all present on the seminary feast day and especially encouraged the seminarians to read spiritual and theological books and if possible, to acquire a personal spiritual library. His Eminence then read a number of congratulatory messages from graduates of the seminary and from the Church Abroad's various dioceses. A wonderful meal was served to all the guests, after which His Grace, Bishop Michael gave a talk and showed photographs of his recent trips to Russia and Haiti.
The festive day came to a close with the the daily service of Compline, which was served in the Optina chapel. Glory to God that our seminary and community was blessed to have a prayerful and peaceful feast of the Three Hierarchs.