Colloquium on Philaret Drozdov, Metropolitan of Moscow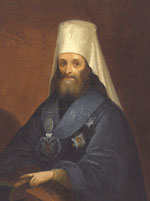 An international panel of scholars gathered November 1-2 at Holy Trinity Orthodox Seminary to participate in a colloquium entitled: "Philaret, Metropolitan of Moscow (1782-1867): Perspectives on the Man, His Works, and His Times."

This colloquium, the first in a planned series, was dedicated to the hierarch Fr. Georges Florovsky described as "probably the greatest theologian of the Russian Church in modern times" and brought together scholars from different academic backgrounds from various seminaries and educational institutions, all intrigued with one aspect or another of Metroplitan Philaret. Recently canonized, St. Philaret is one of the most important, yet largely unstudied figures in nineteenth-century Russian Church history.
In his introductory remarks, Assistant Dean Fr. Vladimir Tsurikov noted, that these gatherings aim at contributing to thought provoking and stimulating discussions not only within the boundaries of Orthodox theology, but with relevance for the humanities in general.

His Eminence, Archbishop Mark of Berlin and Germany presented the first paper on "Metropolitan Philaret: Significance in the context of the History of Homily in Russia."

The second session was dedicated to historical issues -Professor Gregory Freeze of Brandeis University examined "The Great Reforms and the Russian Orthodox Church: The Role of Metropolitan Philaret." Professor Alexander Iakovlev of St. Tikhon's Theological Institute in Moscow concluded the session with "The Russian Empire 1821-1831: Metropolitan Philaret as Statesman."

A concert of the Holy Trinity Monastery and Seminary Choir was held in the evening after evening services for all participants and was followed by a reception.

Professor Vadim V. Liapunov of Indiana University began the second day of the colloquium with a presentation entitled - "The Gift of Life: Pushkin and Philaret". Professor Robert Bird of the University of Chicago continued the program with "Metropolitan Philaret and the secular culture of his age." The presenters were joined by the Assistant Dean for the plenary session, which identified outcomes and examined possibilities of future research on Philaret. A moleben to Saint Philaret was the final official proceeding of the colloquium.

Holy Trinity Seminary plans to publish the proceedings of this year's colloquium in the future. To order a copy or to obtain information on the next such event, contact Deacon Vladimir Tsurikov at vtsurikov@hts.edu.