Moscow State University Professor Delivers Lectures
4/12/2002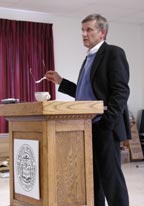 One of Russia's leading historians, Professor Nikolai Borisov, Ph. D., visited Holy Trinity Seminary Friday, April 12. The only member of the Moscow State University History Department who specializes in Russian Orthodox Church History, Professor Borisov shared his knowledge with the seminarians and other guests through two lectures.
His first lecture, "Cultural Treasures of Ancient Russia," featured slides of ancient Russian churches and monasteries. Professor Borisov embellished each view with historical commentary as well as his personal reflections on visiting these holy sites.
The second lecture, "Saint Sergius of Radonezh in Russian History," explored the influence of Saint Sergius both during and after his life. This lecture was largely based on Professor Borisov's recent book on the same topic. Both lectures were followed by questions from audience members.