Vassar Professor Lectures on War and Peace
03/13/2002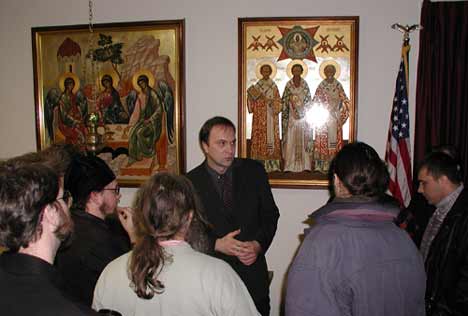 Assistant Professor Dan Ungurianu visited Holy Trinity Seminary March 13 and delivered a lecture entitled, "The Current Century and the One Past: Veterans of the War of 1812 Comment on Count Leo Lolstoy's War and Peace ." The lecture was held in the Seminary's graduation hall.
Professor Ungurianu of the Russian Studies department at Vassar College presented his research detailing the often-critical reaction of veterans of the war of 1812 to the publication of Tolstoy's novel. Following his analysis a lively discussion between audience members and Professor Ungurianu ensued.
Professor Ungurianu's lecture is one in a series of occasional events sponsored Holy Trinity Seminary for the seminary and monastery community.