Fire Destroys Storage Barn; Damages Seminary
11/1/2001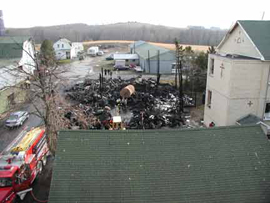 A fire consumed one of the Holy Trinity Monastery storage barns and its contents Thursday, November 1. No one was injured, but the early-morning blaze also damaged two other barns and the north end of the Seminary classroom building.
Fire officials are still investigating the cause of the tragedy. Both monastics and seminarians reported seeing suspicious youths at the monastery the previous evening, Halloween night.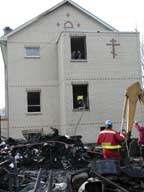 Light from the fire caught the attention of several monks around 1:00 a.m., who contacted emergency services. The monastery bells were rung, alerting the members of the community to the danger.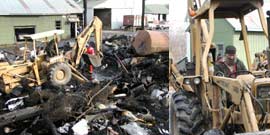 Firefighters from eight surrounding fire departments battled to contain the blaze, while monastics and seminarians looked on in disbelief. At times the flames reached more than three stories into the air. With the fire mostly burnt out by 5:00 a.m., the community gathered in the lower church of Holy Trinity Cathedral for morning prayers.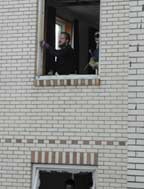 His Eminence, Metropolitan Laurus, spoke about the spiritual significance of this tragedy following liturgy: "This is, of course, for our sins," he said. Thanking Our Saviour that there were no injuries, he quoted Psalm 117:18: "With chastisement hath the Lord chastened me, but He hath not given me over unto death."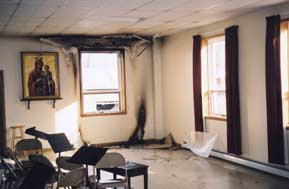 Seminary classes were canceled due to damage to the classroom building, which stood less than 50 feet from the burning barn. Heat shattered 10 windows, cracked several others, and buckled aluminum trim. Flames ignited curtains inside the second-floor hall, which scorched sections of the wall and ceiling. Miraculously, the flames stopped inches from a large icon of the Mother of God that had belonged to Metropolitan Philaret.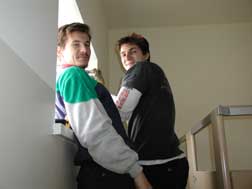 Moved by the sight of their building in disrepair, a large number of seminarians spent the day mopping floors, removing broken windows and boarding them up. A normal schedule of classes resumed on Friday.
Though the tragedy spared the library, museum, offices and most classrooms, the Seminary will incur significant expenses to repair the damage. Donations to offset the insurance deductible and other uncovered expenses are welcome. Contact Father Deacon Vladimir Tsurikov for more information.